MULTI-LAYERED
ORIGINAL
COMMITTED
POSITIVE
COLLABORATIVE
REFINED
UNSTOPPABLE
OBSESSED
ABSORBED
CREATIVE
INNOVATIVE
DRIVEN
SOPHISTICATED
ORGANIZED
PASSIONATE
INVESTED
SINGULAR
HONEST
KIND
INSPIRED
DEDICATED
ELEGANT
POWERFUL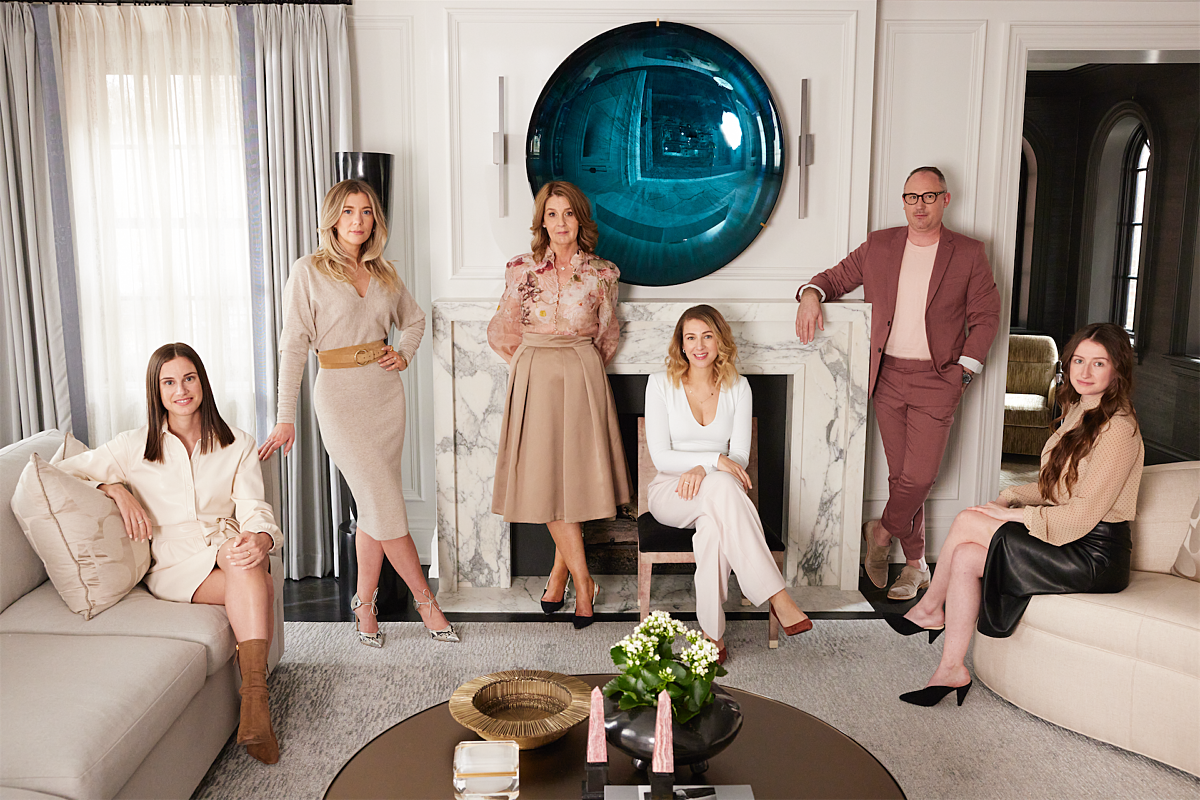 "Great things
are done
by a series
of small
things brought
together"
Vincent Van Gogh
Collaboration is the principle tenet of our studio. Creating world class design requires a collaboration of talented designers based on trust, openness and respect, who share a common goal. Our goal, without exception, is to create meaningful, original and beautiful interiors that reflect the authenticity and lifestyle of our clients.
When we work alongside one another, an alchemy of skill, creativity and passion contributes to the magic of the narrative we create. More than any other factor, active collaboration has been the key component to the success of the studio. We learn, grow and are inspired from shared experiences, views, ideas, and opinions. Our clients are the beneficiaries of a design developed with a collective objective that is ultimately stronger, broader and acutely innovative in its approach.

Elizabeth Metcalfe
Principal + Founder EMD
There are moments that change the course of our lives. Moments that we reflect on later in life and recognize their impact. I've been lucky to have had quite a few people that believed in my dreams and supported me, and experiences that opened my eyes to a world of possibilities. They have all contributed to who I am today -a designer with a dedication to be the best that I can possibly be.
Over twenty years ago, when I made the decision to go back to school and immerse myself in the world of interior design, I could not have imagined how my life would unfold as it has. Today, I look back with wonder and pride at how far the EMD studio has evolved and grown over the last two decades. It was founded on a genuine love of design, a passion to create beauty, and a determination to create a company committed to the highest standards of excellence in the industry.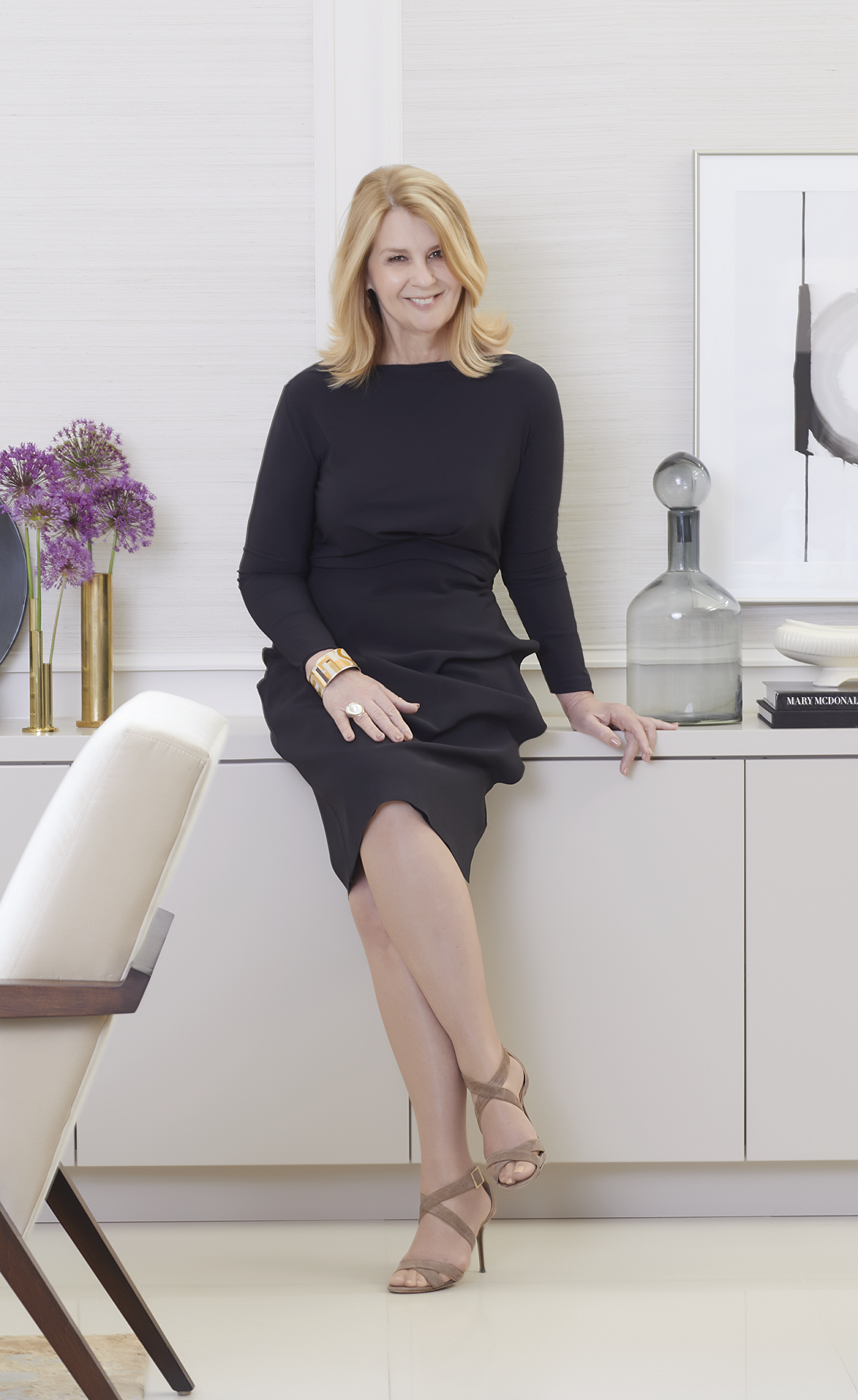 As Principal of EMD, I am immensely proud of our studio. It is rewarding to work alongside an exceptionally talented team that share my love of interior design and the decorative arts. I'm honoured to be surrounded by people who have their own visions and ideas, who consistently push themselves to be better, to set high goals, and bring out the absolute best in each other.

To be given the chance to design and create beauty is a privilege that I am forever grateful and appreciative of having in my life. It has shaped me in a profound and meaningful way.
This is what I was always meant to do.

Nicole Webster
Creative Director
I've always been sensitive to my surroundings and developed my design voice at a very young age. As a child, I would accompany my parents to auction houses and antique shops where I could explore unique furnishings and decorations. It was here that I knew I had a strong connection to the world of design and interiors. Although I very much enjoyed growing up in a beautiful rural environment, I knew there was a larger path for me to seek out and discover that lead me to study Interior Design at Sheridan College, outside of Toronto. Not long after I graduated, I began my collaboration with Elizabeth Metcalfe Design and it's where my career truly began. For over a decade, I have been given the opportunity to expand learning through travel and experiences within the design industry that have taken me to many wonderful places around the world. My inspiration is drawn from many forms -art, food, fashion, design, travel, architecture and styling which influence my work daily. The excitement of the process of design is what keeps me inspired.
The search, the discovery, the creation; this is when magic happens.

- Nicole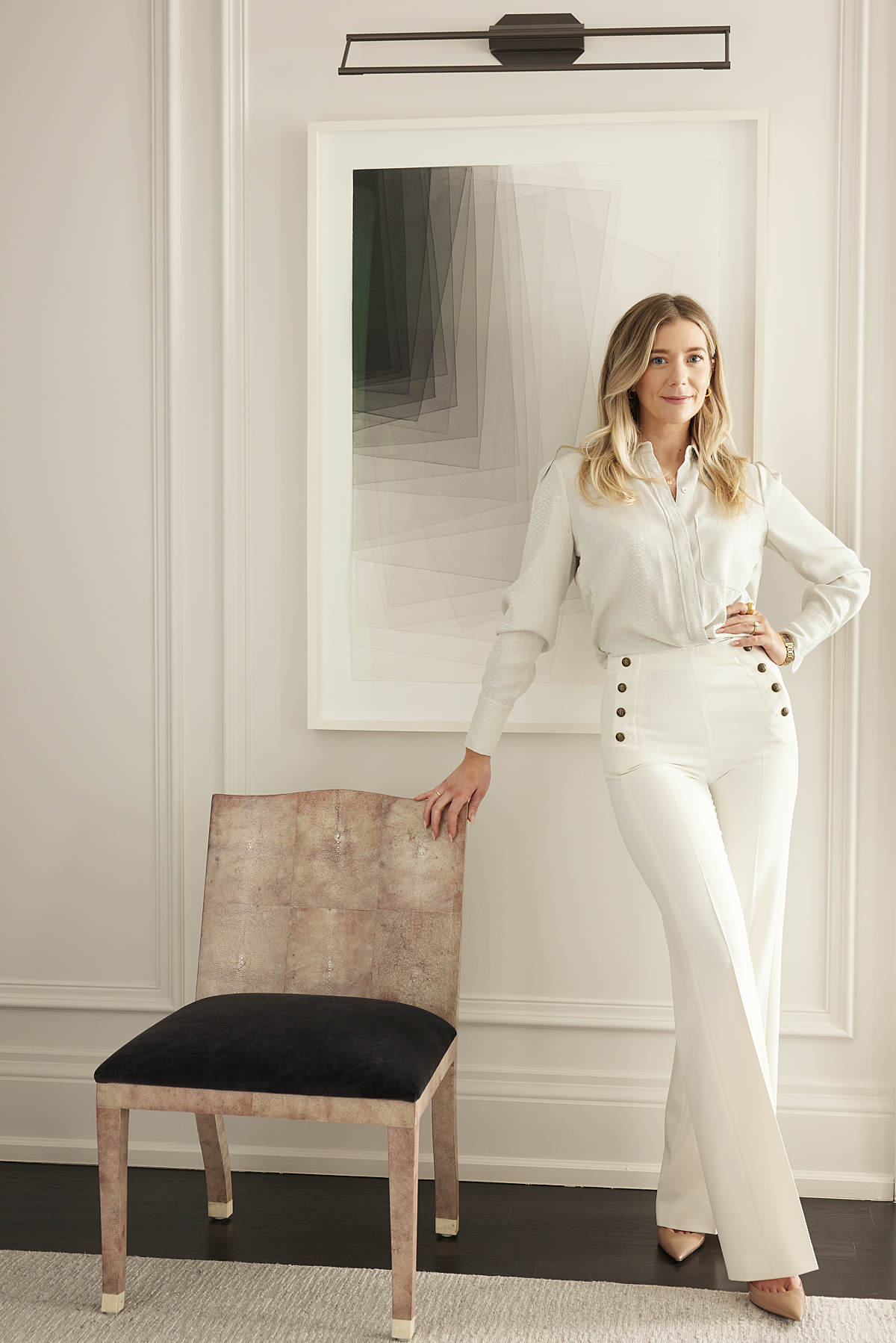 Sophisticated, chic and exceptionally gifted, Nicole has been part of EMD since 2009. Her love of beauty and innate sense of style shines through every project. She shares my commitment to high standards of excellence and continually raises the bar to create interiors that amaze both myself and our clients. Nicole's instinctual understanding of complex colour combined with her passion for textiles is one of her personal trademarks.

Nicole's dedication to her craft and the company have earned her the title of Creative Design Director.

Nikki Wakeman
Project Coordinator
I've always been interested in why people think and feel the way they do. This interest guided me into the field of Sociology at Brock University where I received my Honours Degree in Sociology with a Concentration in Criminology. I learned how to analyze statistics and historical data to explain what a large group of people thought at a certain time. It also helped me explain why people may be feeling what they're feeling on a more personal level. Many people have asked me, "what does sociology have to do with design?", and for me that's an easy answer. Design is more than just lines on a piece of paper, an AutoCAD drawing, or a completed building. People are drawn to certain, colours, textures, and shapes for a reason –they cause them to emit a certain feeling and seeing clients react to elements of the design process fascinates me. I love being immersed in an industry that has so deeply defined our culture and the way we perceive it.
In my free time, you'll find me testing out a new recipe, discovering a new hiking trail to explore, or visiting a winery I have yet to try. I also love travelling -I'm constantly researching destinations and have a never-ending list of "places to visit next".
- Nikki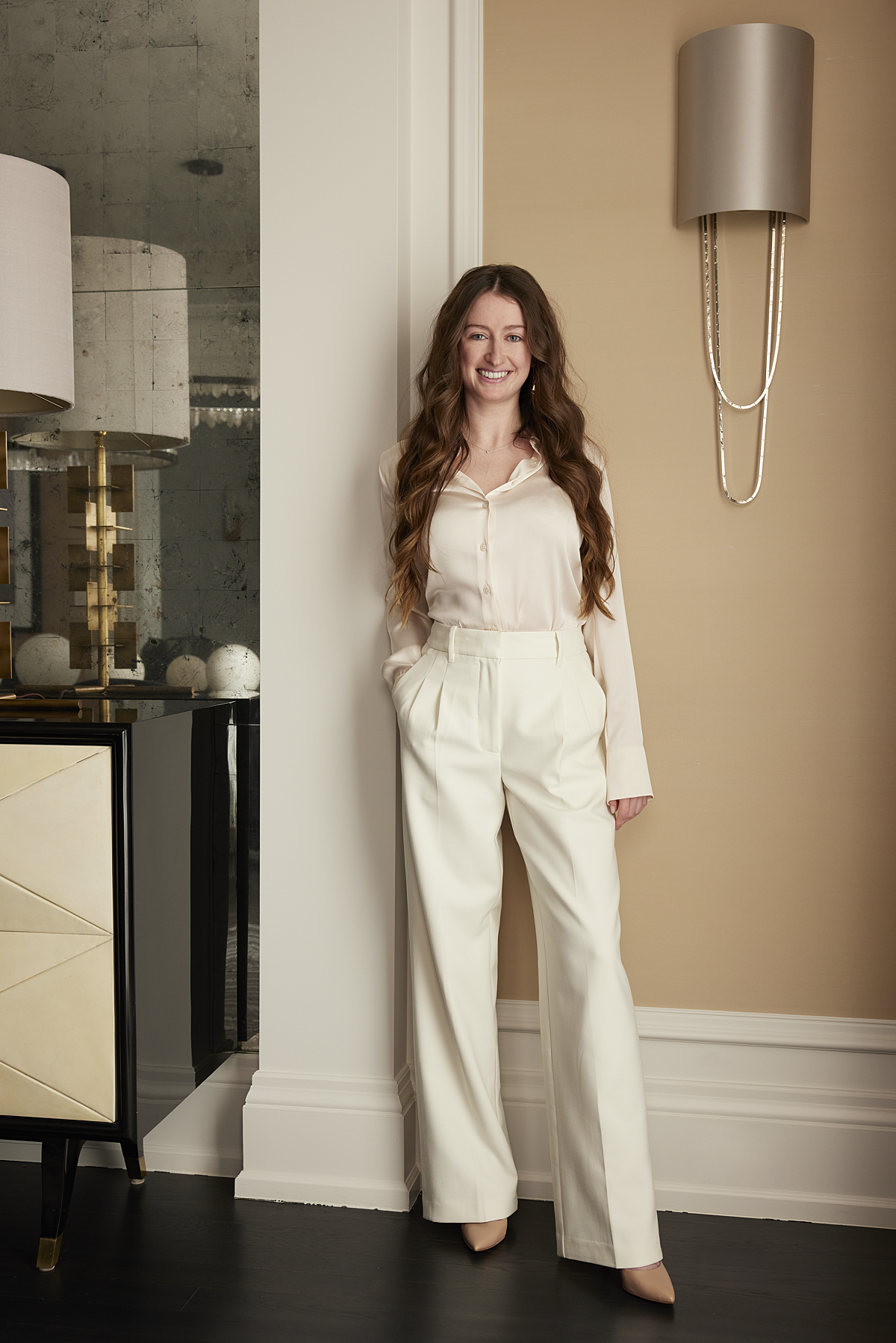 Nikki has been a crucial member of EMD since 2015. She plays a fundamental role in facilitating the studio's design work. Immeasurably organized, professional and smart, Nikki's role encompasses a wide range of duties including preparation of quotes, administration, billing practices, correspondence and scheduling that are essential to keeping projects running smoothly and efficiently. She is at the core of everything that we do. Wise beyond her years, she is the reason that the design team can concentrate on what we love to do, knowing that Nikki has everything aptly under control. Collectively, we thank her every day.

Natalia Stawecki
Lead Senior Designer
From a young age I had a need for self-expression. I would spend hours gazing at the clouds imagining how the different forms and shapes worked together creating an alternate universe in my head. It is safe to say I always dreamed of the biggest picture; the moment where I was free and able to fulfill my desire to explore the world. Graduating from Ryerson School of Interior Design catapulted my curiosity even more and influenced me to move to Italy to complete my Master's Degree in Innovation, Strategy and Product Design. I found that the more doors I opened, the more I learned, and quickly saw myself becoming the designer I had always dreamt of. I owe a lot to London, which was my home for five years, working on luxury residential projects. Living in the UK guided me into a creative world that fed my visionary soul. A soul who has traveled to forty countries, experiencing each of their unique cultures, cuisines and styles. This brings forth my present-day design philosophy of innately layering different dimensions and multi-point experiences through my creative expression.
- Natalia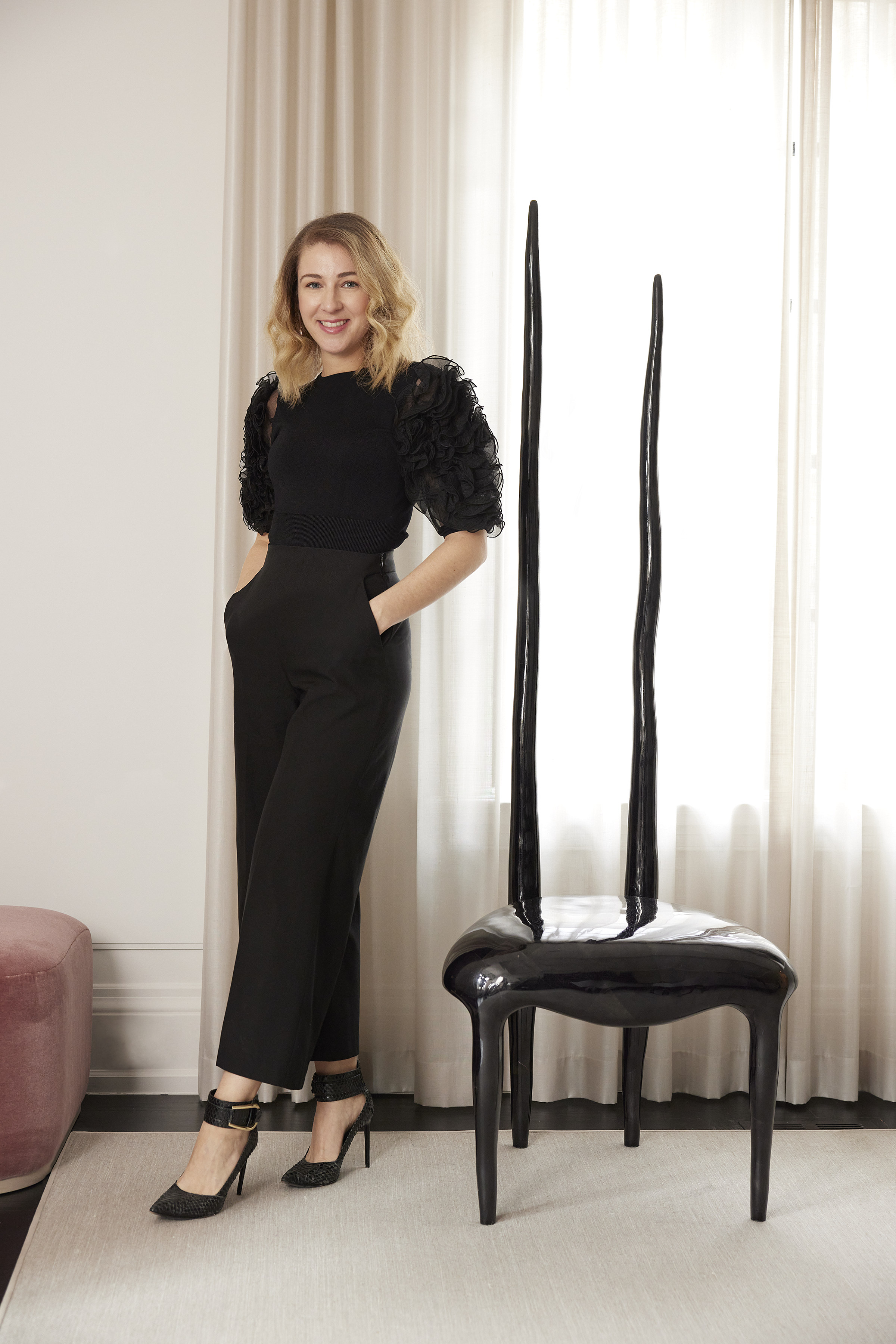 Natalia displays an extremely high level of creative thinking and competence, turning every problem into an opportunity to create an original concept. I knew within minutes of interviewing Natalia that she would be an amazing asset to the EMD team and she has proven my instincts correct. As someone that deeply loves design, she is known to push boundaries and challenge the rules. She never fails to impress me as a wonderful designer but also as a wonderful person.
As a client noted, "Natalia has a lovely aura". I entirely agree.
Robert Ambrose
Senior Designer - Technical Lead
Growing up in the rural landscape of the Kawartha Lakes, I had an ever-present feeling that there was more to explore in this world. Our family home starkly contrasted with the norm of the area. It's extreme angles and quirky shapes stuck out of the landscape like an oddity. Not knowing at the time, this formative experience of sculptural contrast is what led me toward a career in design. The Interior Design program at Georgian College was the bridge between my rural upbringing and a yearning for an urban life. Not long after moving to Toronto, I found myself drawn to photography. The camera was a tool to capture light, allowing me to hold onto moments of beauty. Throughout my life, I've found the passion for creative expression and design to be the central tenet of who I am.

- Robert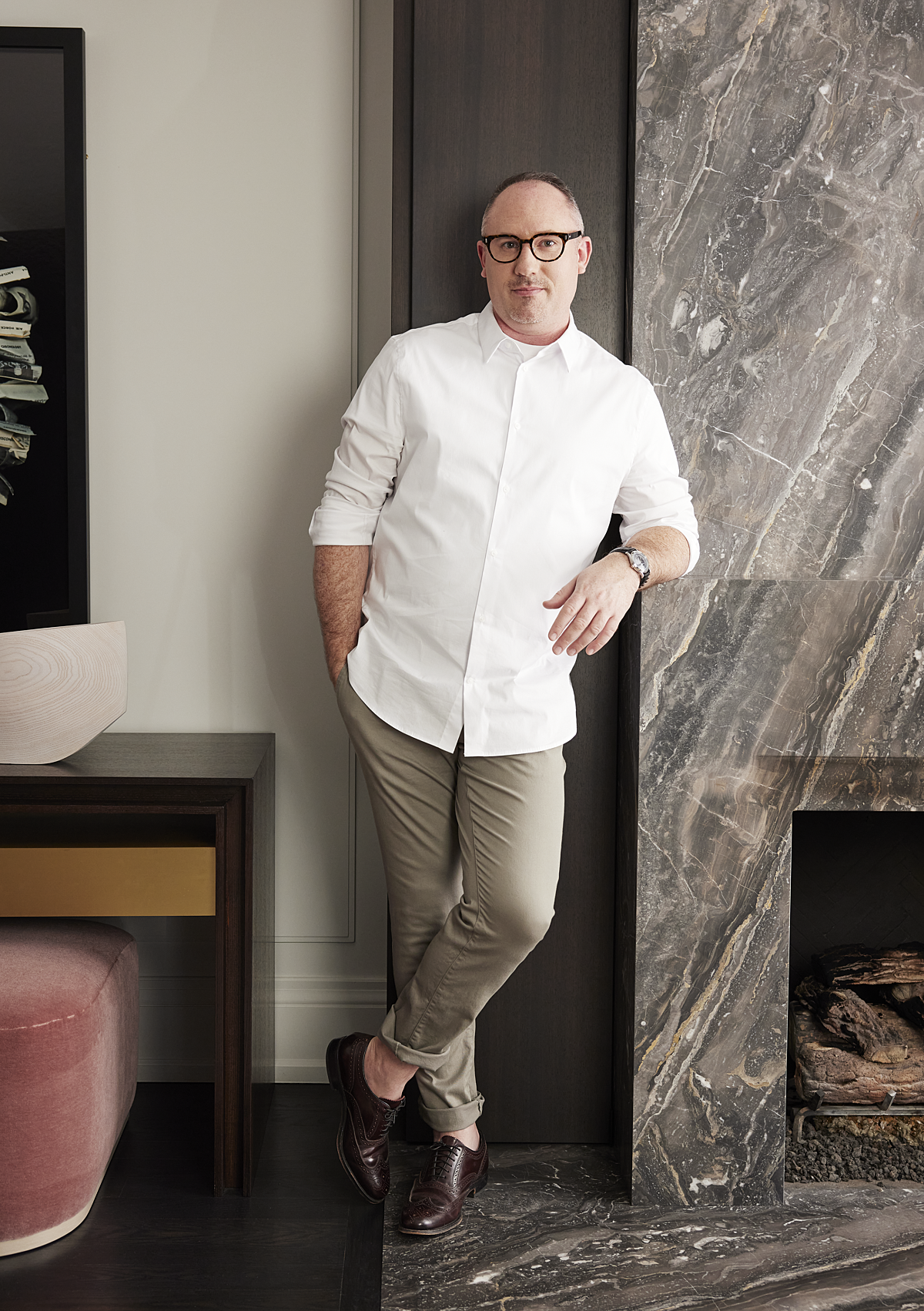 The creation of a beautiful home requires the coordination of talent and a wealth of knowledge and expertise of design, construction and technical skills. Robert's approach and meticulous attention to detail ensures accuracy for ease of construction. He approaches every project with a dedication to beauty and perfection with an understanding of how to achieve it. Robert is EMD's Technical-Lead.
(As a side-note, being the daughter of a father who professionally raced motorcycles on the Isle of Man, I love his affinity for vintage cars too.)

Chloe Azara
Senior Designer
My love of art and creation comes from being surrounded by an artistic family. When I was a child, growing up in the south of France, I would spend time painting with my Grandmother in her atelier. Years later my family moved to Quebec where I graduated with an Undergraduate Diploma in Environmental Design from the University of Montreal. My love of travel sent me to London to complete a Master's Degree in Interior Design. It is also where I started my professional career working on high-end residential interiors throughout the UK and abroad. My European culture and my years in London were a great opportunity to have access to a broad cultural scene focused on architecture, interior design, art exhibitions and fashion. It is these experiences that have allowed me to be creative and express myself as a designer.
- Chloe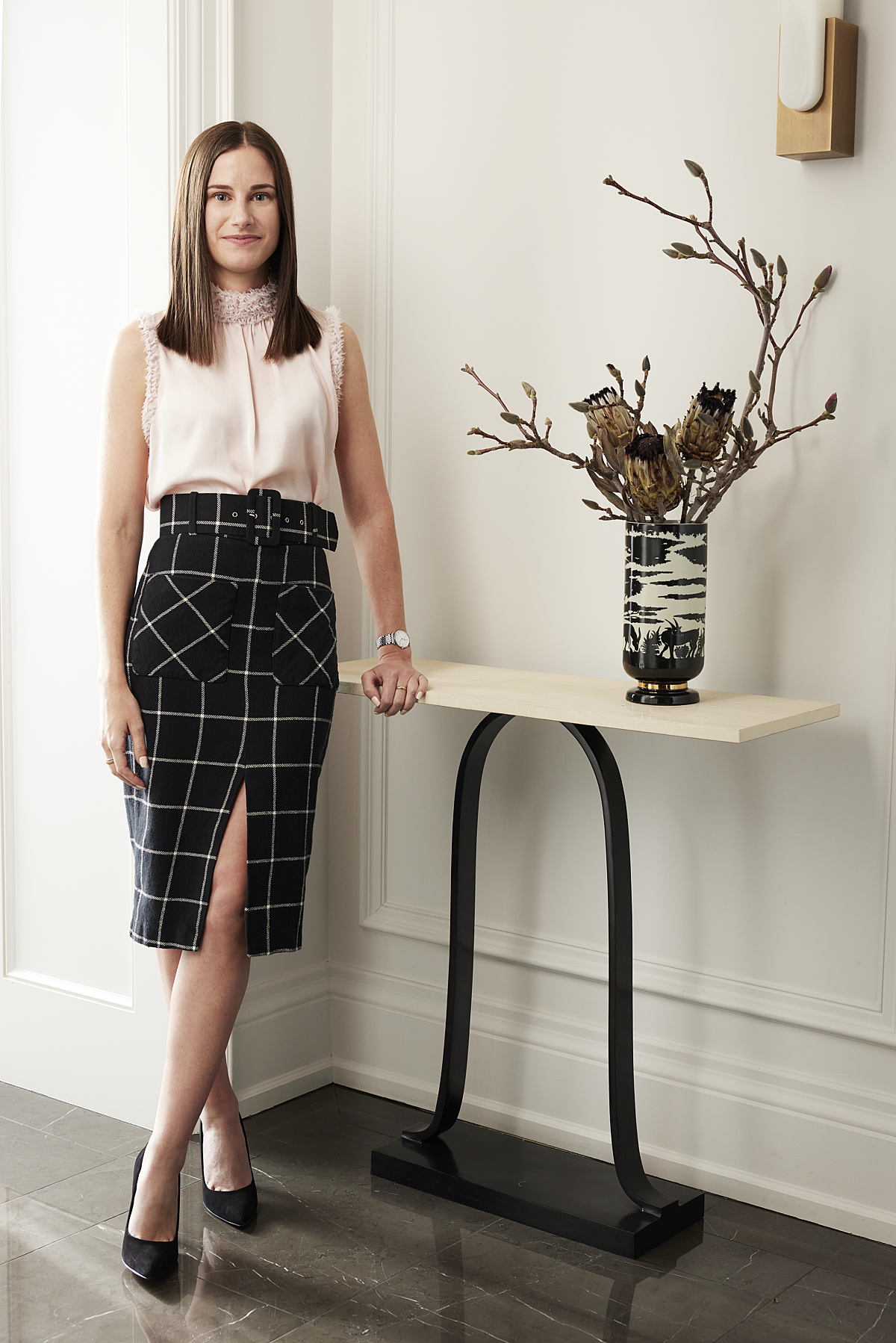 Chloe's magic is creating combinations that are exceedingly original, sometimes a little daring, but always grounded with a French elegance that is exceedingly chic, stylish and current. Her discerning eye excellently curates' interiors that speak to a modernity of style, not trends. Chloe loves designing custom furnishings that have a twist, an element of surprise that gives her work a cultured aesthetic.
RECOGNITION
OUR MENTIONS, PRESS COVERAGE & AWARDS RECOGNIZED LOCALLY AND ABROAD